---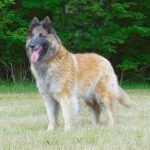 Ybrisca was born in 1999 from a cross between Golan vd Wielander and Whitney v't Belgisch Schoon. She is a beautiful dog with an excellent type and a very nice character. Her father was a  working dog and  also Dutch and International Champion.With Ybrisca we started our Tervuerenbreeding again after a break of more than ten years.The offspring of Ybrisca is very promising and we are very glad that she came to our kennel.
The first litter was produced by Mike v.d Schagerwaard. From this litter we kept Cubik v't Guitpad which is a great dog in many ways. The second litter came from Xenakis Du Clan Des Fauves. From this litter we selected a beautiful bitch named Danicha v't Guitpad.
From the last litter produced by Odyn v.d. Lamar only Esha v't Guitpad survived. Ybrisca died on 5 August 2010.
Breeder:  M.v Daalen
Owner:  W.Grosman
---