---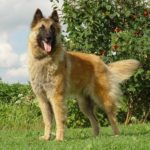 Ferrah was born on the 2nd February 2006 from a cross between Danicha v't Guitpad and Odyn van de  Lamar. She has an outgoing character and a beautiful type. Her coat is  beautiful red. She developed very well and her first litter was born on 12-10-2008. In combination with the American Import (into Germany) and VDH-Champion Blackwaters Blue Ocean 3 males and 2 females were born. A very promising I-litter Tervuerens with typical and outgoing pups.
The second litter from Ferrah was born 08 August 2011. The father of this beautiful K-litter was Caruso de la Chenestre from Belgium breeding. In this litter there were born 2 males and 4 females.
Ferrah's last litter  was our L –litter Tervueren  and  Ferrah v't Guitpad was mated to Riley vom Motodrom on 17-04-2013. On 16-6-2013 a litter with 3 males and 3 females were born. It was a wonderful litter with beautiful and promising pups. There was one grey male and one grey female in this litter. We selected the grey female Lamira v't Guitpad for ourselves.

---