---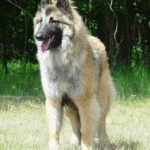 Danicha was born in 2003 from a cross between Ybrisca de la Vignette and Xenakis du Clan des Fauves. Danicha is a nice dog with a beautiful type and also a very good character. She has a beautiful red coloured coat and very good bones. She has developed very well and received excellent qualifications from every judge. She passed her character test with good results and we started breeding with her in 2006. Her offspring look very promising and we selected a female dog from her first litter.
The first litter (F-Litter Terv) was produced by Odyn van de Lamar. There were 9 (4 males and 5 females) beautiful dogs in this litter. From this litter we kept Ferrah v't Guitpad which is a nice female with an outgoing character. The second litter of Danicha born on 17 April was our G-litter Tervueren and the father from this litter was the the Belgium Tervueren Van de Pillendijk Darco. In this litter there were 4 males and 4 females. This also was an excellent litter from our Danicha
On 3-6-2010 our Danicha v't Guitpad was mated to Amigo Ingoz de la Tyvell. The pups from the last litter from Danicha were born on 7-8-2010. In this litter 3 males and 5 females were born. It turned out to be a very nice litter and one of the male pups named Jamash went to Austria. We decided to keep a female dog for ourselves and we selected from this litter a beautiful fauve female named
Jodie v't Guitpad.
Descendents 1 : Danicha v't Guitpad x Odyn v.d.Lamar
Descendents 2 : Danicha v't Guitpad x Van de Pillendijk Darco
Descendents 3 : Danicha v't Guitpad x Amigo Ingoz de la Tyvell

---