---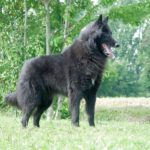 Xantha was born on the 24th February 2010 from a cross between Shiva v't Guitpad and Arès des Perles Noires. She has an outgoing character and a beautiful head.
She has a white spot on her chest. She lived with family but came back to us in 2012. Xantha is a real beauty with a very interesting pedigree. Because of the good result of the litter with Umrah and Shiva we also decided  to combine our Xantha v't Guitpad  with Jago de Sincfal. Xantha was mated on 17 May  2014 and this B-Litter Groenendael was born 18-7-2014. There were 2 males and 6 females in this fantastic litter.
For Xantha's second litter we decided to combine her with Hurricane v.d Schagerwaaard from Germany because of the good offspring we had from this studmale with Umrah v't Guitpad. This C-litter was born on 26-1-2016. There were 4 males and 4 females and this litter was also very good. Two males were exported to Germany where they are are very sucesfull. Chadow v't Guitpad became succesfull on the shows and Conan on the race-track.

---