---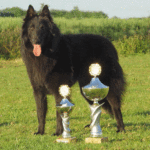 Shiva was born on the 27th August 2004 from a cross between Ocean v't Guitpad and Arras-G Del Colle Ombroso. She has an outgoing character and a beautiful type. Her coat is all black with no white hair at all. At her first show in Oldenburg- Germany (2005) she became Best of Breed and in 2007 she was mated to the NVBH-Clubwinner of 2006 Don Night Dancer Del Castel Sardo but unfortunately there came no pups. In 2008 Shiva was mated to the Multi Champion Quinto Rival de Bruine Buck and from this combination there were born 4 males and 4 females on 26-04-08. This V-Litter Groenendael was the first litter from our beautiful Shiva.
The second litter from Shiva was born 24 February 2010. The father of this beautiful  X-litter was Arès des Perles Noires a very good dog from French breeding. The female side of his pedigree is a nice blend of the of the best French Groenendael and Tervueren breeding lines. The father of Arès is Donatrix Quastor which is a very good dog from Scandinavian origin. His pedigree contains a lot of influences from the famous Finnish Valkohampaan–kennel which have been breeding a high quality of Groenendael for more than 35 years.  In this X-litter there were born 2 males and 4 females. We selected a beautiful female named Xantha v.'t Guitpad to continue our breeding.
The last litter from our Shiva v't Guitpad was our Z-litter Groenendael and Shiva v't Guitpad was mated to Jago de Sincfal. on 04-06-2012. On 4-8-2012 a litter with 2 males an 2 females were born. It was a wonderful litter with beautiful and promising pups.

---