---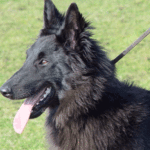 Qasima v't Guitpad was born in 2002 from a cross between Ocean v't Guitpad and Boetsch de Bruine Buck. As she was the only female in the litter, and we would like to continue our breeding, our choice of female dogs was obviously limited. Soon it was evident however that she has great character. We succeeded to continue our Groenendael-breeding with Qasima. The T-litter Groenendael was her first litter and they were born on 11 August 2005 from Qasima v't Guitpad and the Dutch Champion Kay of the First Triangle. There were only 1 male and 2 females born in this litter.
The second litter from Qasima was born 28 April 2007. In this U-litter there were 2 males and 6 females especially the characters of the dogs in this litter were very good and we selected a beautiful female named Umrah to continue our breeding. The father of this litter was the very elegant and typical Dutch Champion and Bundessieger Pe  Spike Donna v Lana's Hof.
On 12 May 2009 Qasima's last litter was born. The father of this beautiful  W-litter was Arès des Perles Noires a very good dog from French breeding. The female side of his pedigree is a nice blend of the of the best French Groenendael and Tervueren breeding lines. The father of Arès is Donatrix Quastor which is a very good dog from Scandinavian origin. His pedigree contains a lot of influences from the famous Finnish Valkohampaan–kennel which have been breeding a high quality of Groenendael for more than 35 years. In this litter there were 5 males and 4 females and we think they all are very promising. From this litter we did not keep a dog for our own breeding because we already have Umrah to continue Qasima's breeding line.

---